https://pbs.twimg.com/media/E3CJzXyXMAI5Q0z.jpg
Ex-Ivorian national team defender Emmanuel Eboue has said he's not poor in an interview he granted earlier this year and monitored by Citi Sports. According to the former Arsenal, Sunderland and Galatasaray right-back, he's not suffering in poverty.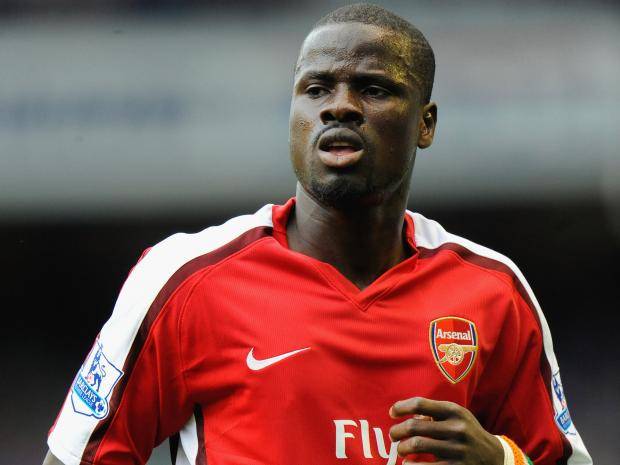 Emmanuel Eboue had a messy divorce case with his wife in 2017 and he ended up losing some of his properties. To this effect, English publication Daily Mirror was quoted that the player is poor and homeless following the divorce from his wife. Emmanuel Eboue has now dispelled the notion that he's poor and that he may have been misunderstood.
Eboue confirmed that the Court ruled in favour of his wife and that the two cars, house and money he had in England was given to her. The Ivorian said it's not nice that people are saying that he has lost everything. Emmanuel Eboue is not worried as he expects his wife to use the properties awarded to her to take care of their children.
The former Arsenal right-back went on to say that he was very disappointed when the court ruled against him and that he was able to get over the incident after praying. He prayed and forgot about the situation.
Eboueconfirmed that he relocated to Africa after the divorce case in the United Kingdom (UK) and that he has properties in Africa. He further said that he manages his properties on the African continent.
Ivorian international Eboue made his name at Arsenal following his transfer from Beveren and he was part of the Gunners squad that reached the 2006 Champions League final before losing to Barcelona with ten men. German goalkeeper Jens Lehmann was sent off in the first quarter but the Gunners still managed to take the lead through Sol Campbell. Barcelona broke Arsenal hearts with two late goals from Samuel Eto'o and JulianoBelletti to win a second European title.